Regular price
Sale price
$25.00 USD
Unit price
per
Sale
Sold out
This Eczema Care Body Butter is formulated to moisturize your skin and help alleviate irritation from an outbreak.
Our body butters are never diluted with water, making them highly concentrated, so a little goes a long way, and you'll instantly feel a difference the moment this touches your skin. 
The two powerhouses in this body butter are organic cold-pressed rosehip seed oil and organic undiluted cold-pressed neem oil. These two, along with other skin loving food-grade ingredients, are whipped to perfection, to give you a light butter that melts onto your skin, effortlessly conditioning it to a healthy moisture level. 
Why Neem Oil?
High in vitamin E and fatty acids which condition the skin.
It's anti-inflammatory properties help calm and reduce eczema & psoriasis related inflammation, redness, itching, and pain. 
Contains antioxidants and fatty acids which help prevent premature aging.
Antibacterial, anti-fungal, and antiviral.
Why Rosehip Seed Oil?
Full of fatty acids that penetrate the skin to lock in moisture, leaving skin feeling softer than a newborn baby's butt.
Packed with antioxidants like beta carotene that keep skin rejuvenated, reducing the appearance of fine lines and wrinkles. 
Loaded with vitamin C which helps to even out skin tone and diminish the look of dark spots.
The fatty acids also help to calm the skin, which can help minimize the appearance of redness. 
Our skin is our largest organ and our first line of difference to protect us against all the toxins we are constantly exposed to. It's also a huge part of our immune system. Healthy skin needs moisture; butters and oils help protect our skin and leave us feeling soft & silky smooth. Our products, including this body butter will help you get your skin back to the way it's meant to be. 
 This comes in a 4oz resealable amber glass jar. 
Share
Ingredients

organic unrefined shea butter, organic virgin coconut oil, avocado oil, tocopherol (vitamin e) oil, organic cold-pressed rosehip seed oil, organic undiluted cold-pressed neem oil, lavender and tea tree essential oil (for regular version only).
How to use

Apply to skin as often as needed.
Shipping

Orders typically ship between 3-5 business days and arrive 2-8 days after shipment, depending on location. Due to the upcoming holiday season, please allow for longer shipment times.
Return policy

Due to the nature of our products, we do not accept returns/exchanges, but we will do our best to make sure you are satisfied with our product.
Important note

For anyone with allergies or skin conditions, please review the ingredients list and consult your physician before use. This product is not meant to be used to treat or diagnose any medical conditions.
View full details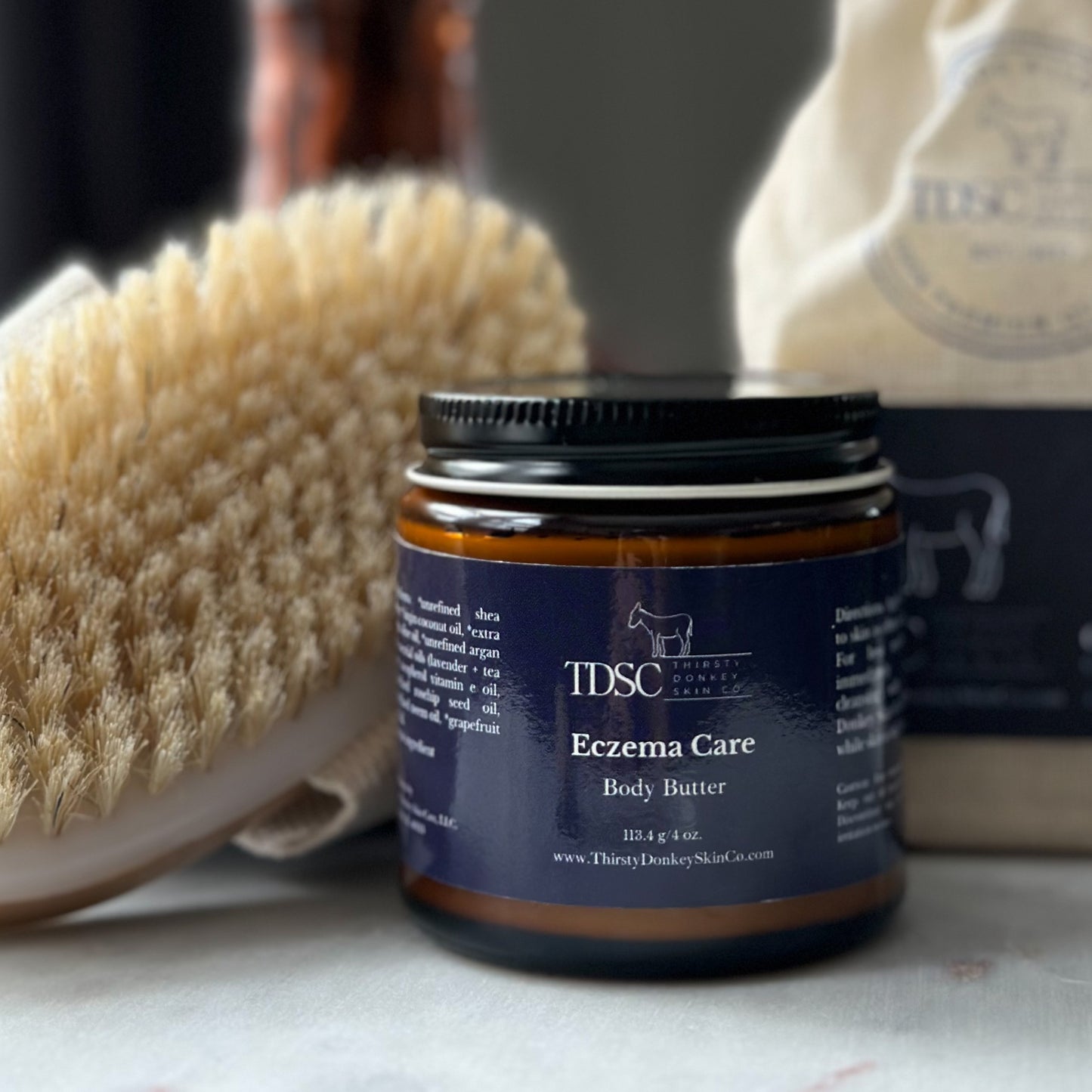 LOVE- must buy!
Absolutely obsessed with this product. Bought it once, and my whole family loves it!
Super Absorbent
Miracle in a tub. This body butter has the texture of actual soft spread butter! It absorbs quickly and the best part is less is more. I usually only need a small amount, about a small chick pea size is more than enough for both my hands. I don't think I'll need to resupply myself for a while with the larger tub but its good to know it goes a long way.
I love how nice my skin feels after using this body butter. I put this on all-over my body right after a shower. My skin feels hydrated and soft. The body butter is not heavy and so much healthier for my skin. I have incorporated this body butter, along with the coffee scrub into my daily skincare routine and it has made my stretch marks less intense on my thighs and backside. It has also helped with my intensely rough and dark elbows.
In LOVE!
This is my absolute favorite moisturizer so far! I would use this on my face too if only my skin didn't react so bad to coconut oil 😭. I don't have eczema but as someone with dry skin, it's like a god-send. I love all the ingredients and it seems like it'll last for a good while! Will definitely be re-ordering in the future!!!💙💙💙
In Love!!!
I've been sticking to body oils for the past years, in order to stay hydrated longer. The body lotions were simply not moisturizing enough and they all have ingredients that are questionable to use on our skin (only the largest organ on our body)! I've waiting until I'd find the right one, with natural organic ingredients and wow! This whipped body lotion is light, melts in my hands and glides on my skin effortlessly! My skin absorbs it and quickly feels moisturized without the greasy heavy feeling.The scent is refreshing and calming at the same time. This type of moisture lasts all day! It's given me a natural healthy glow. I've noticed some of the acne Mark's on my arms are diminishing too
It's a treat after every shower. I've purchased two of the biggest sizes and am delighted I did. I got my mother of 66 years of age into the whole self care Thirsty Donkey routine and she has noticed all day moisture in her dry spots. This same whipped butter has been used on both of my nephews with eczema and of course we are seeing beautiful results and it's only been about one week and a half !!! These are truly magnificent products and will continue to come back for more! Thank you for natural goodness-that works! It is perfect as is! Thank you!!!❤❤❤❤❤